Jamie Smith
Principal Cornet
Born in Yorkshire, Jamie Smith began to play the Cornet at the age of eight with the Sellers Youth Band. After moving up the cornet ranks, he was appointed Principal Cornet of Hammond's Saltaire Band at fifteen. Jamie has performed worldwide as a soloist and as a ensemble member in places as diverse as Ireland, Switzerland, Belgium, Lithuania, Germany and Australia, whilst also travelling twice to Japan for a solo performances in 2015 and 2016.Currently a student at the Royal Northern College of Music, Manchester, Jamie studies Trumpet performance with Gareth Small and John Dickinson.
Paul is the band's Soprano player, a seat he has occupied since 2014. Paul is well known throughout the banding world having previously been the principal cornet for The Sun Life Band. Since moving on to soprano Cornet Paul has won many accolades; including Best Soloist at the 2015 National Finals, twice Best Soloist awards at both the French Open and Butlin's Mineworkers and was last Year awarded the Best Soloist Award at Brass in Concert.
Paul Richards
Soprano Cornet
Kayleigh Mitchell
Solo Cornet
Kayleigh started playing at the age of six with St Dennis Band in Cornwall. During her early years Kayleigh was a member of the National Youth Brass Band of Great Britain. After a move to Camborne Band at the age of sixteen, Kayleigh was appointed Principal Cornet. Following six successful years, a move to Roche Brass beckoned to allow for an easier work/life balance. Kayleigh once again was appointed Principal Cornet and began to get involved with bands such as Fairey's and Grimethorpe. Following a stint of appearances, Kayleigh officially joined Flowers Band for the French Open in June 2019 as Co-Principal.
After spending sixteen years as a plumbing and heating engineer, Kelvin recently joined the Army as a musician. Upon completion of his training, Kelvin was appointed to the Royal Artillery Band, based in Tidworth. First joining Flowers in 2017, Kelvin has enjoyed many appearances and performances, from Concert to Contest.
Kelvin Retallack
Solo Cornet
Luke hails from the north Cotswolds and began playing cornet at the age of 7 with his local band where he played principal cornet and won many accolades in solo and duet competitions throughout the Midlands. In the summer of 2017, Luke was appointed principal cornet of the National Children's Brass Band of Great Britain from which he then progressed to the National Youth Brass Band of Great Britain where he now sits high in the solo cornet ranks. In September 2018, Luke decided to leave his local band to join the Jaguar Land-Rover band where he enjoyed many successes including a radio recording for the BBC at Christmas. Following this, in January, Luke gained his DipABRSM Cornet performance with distinction. Luke is delighted to join The Flowers Band at a young age and looks forward to the many future successes he will have with the band; developing as a young player surrounded by some of the finest musicians in the brass banding world.
Sheila has been a member of The Flowers Band since June 2018. She decided to give top flight banding a second go having not played at the highest level since her university days whilst studying in Huddersfield. She booked some cornet lessons with her old friend Kirsty Walker (Abbotts). two diplomas later, she found herself sitting amongst some of the finest players in the country. Sheila continues to aim higher and is working hard towards a final diploma under the tutelage of Chris Turner.
She divides her days between being a classroom music teacher and running her own private tuition studio.
Sheila Allen
Repiano Cornet
Sean Doughty
second Cornet
Sean began playing the Cornet at the age of seven for his local Church band. Upon turning eleven, Sean progressed to the Enderby Youth Band, soon occupying the Principal Cornet chair. Sean then moved on to the Enderby Senior Band, where he was appointed Principal Cornet. Sean was taught by Ian Porthouse and Richard Marshall at the Royal Birmingham Conservatoire and it was during this time that he joined Flowers Band and has enjoyed many performances at the British Open, National Finals as well as multiple performances abroad.
Josie began playing the cornet aged five and progressed through the ranks of her local training band and senior band before being appointed Principal Cornet of the Enderby band at sixteen. During her tenure; Enderby won the Shirebrook and Wychavon entertainment competitions, as well as qualifying for the first sectional national finals in 2018. She moved to Cardiff in September 2018 to study cornet at the Royal Welsh College of Music and Drama and, as of February 2019, joined the Flowers Band to sit next to her auntie, Sheila Allen, on Second Cornet.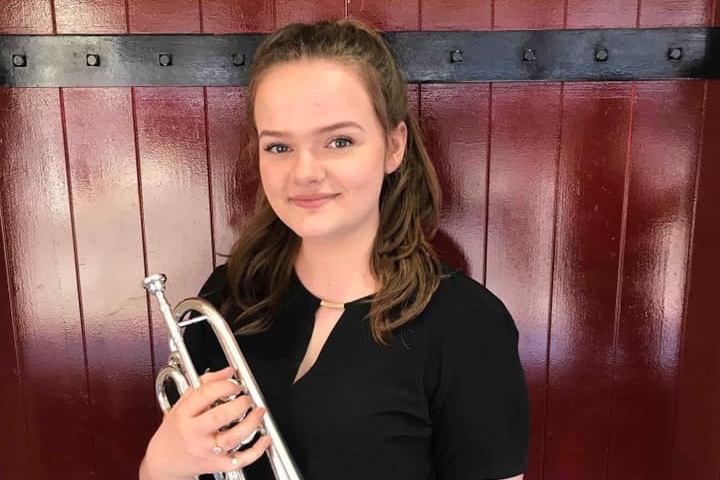 Jessica Scott
Third Cornet